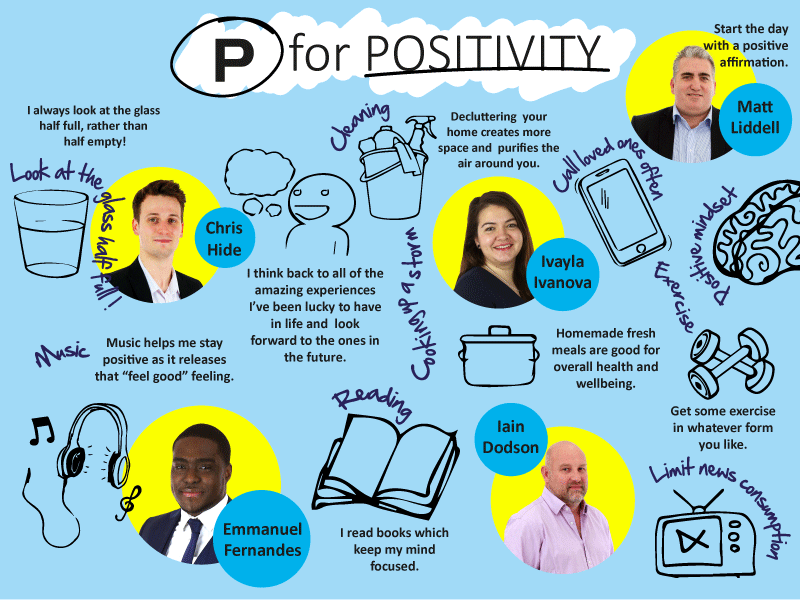 In testing times, we know we can count on our Parkeray family to spread positivity and provide a little ray of sunshine. As we adapt to carrying out work activities from home, we caught up with our members of staff to find out their tips on keeping a positive mind frame.
Here's what they had to say;
Ivayla Ivanova
Homemade fresh meals are good for our overall health and wellbeing, especially now when it is so important to build up and maintain a good immune system.
Regularly decluttering your home creates more space, reduces the amount of time you spend on cleaning/organising belongings and purifies the air around you, fewer things less dust. As a result, you have more time to relax and do the things you like. You can also help others by donating your unwanted stuff, which may be useful to someone else.
Iain Dodson
Get in some exercise in whatever form you like such as Joe Wicks 20 Minute Sweat. As long as you get out of breath doing something active and raise your heartbeat, it's all good.
Learn to enjoy the time you have and find your own rhythm of being and working.
Emmanuel Fernandes
I read books to keep my mind focused and improve my overall productivity. At the moment I am reading The Richest Man In Babylon by George Samuel Clason. Music also helps me stay positive as it releases that "feel good" feeling.
Chris Hides
I always look at the glass half full, rather than half empty! I think back to all of the amazing experiences I've been lucky to have had in life and I look forward to new ones in the future.
Matt Liddell
Start the day with a positive affirmation and focus on the good things, however small.
Transform negative self-talk into positive self-talk.
In our P for Positivity series, we will be delving deeper with focus pieces from specific team members who have loads of ideas and tips to share on this subject. Follow our "P for Positivity" campaign on social media, where we will be sharing a tip a day from colleagues across the business. Like, love, share!