This October is not only Breast Cancer Awareness Month, but it also marks one year since our COO, Clare Ashmore, was diagnosed with breast cancer.
This life-changing chapter of Clare's life has gone full circle. What started as an innocent fall off her bicycle during the pandemic; led to the discovery of a lump. Thankfully, it was successfully removed through early detection, surgery and radiotherapy. As a closure to this challenging time and a special thank you to the wonderful people that supported her battle with cancer, Clare fulfilled her pledge to the Macmillan nurses by completing a 107km cycle ride around the Isle of Wight on Macmillan Coffee Morning Day.
Overwhelmed by the generous donations from family, friends and associates across the construction industry, Clare raised over £6,500 for Macmillan. 10% was pledged to the fantastic nurses from the Brighton Breast Cancer Care Unit to fund the production of their heart-shaped cushions, which bring so much comfort to those in the recovery stages of surgery.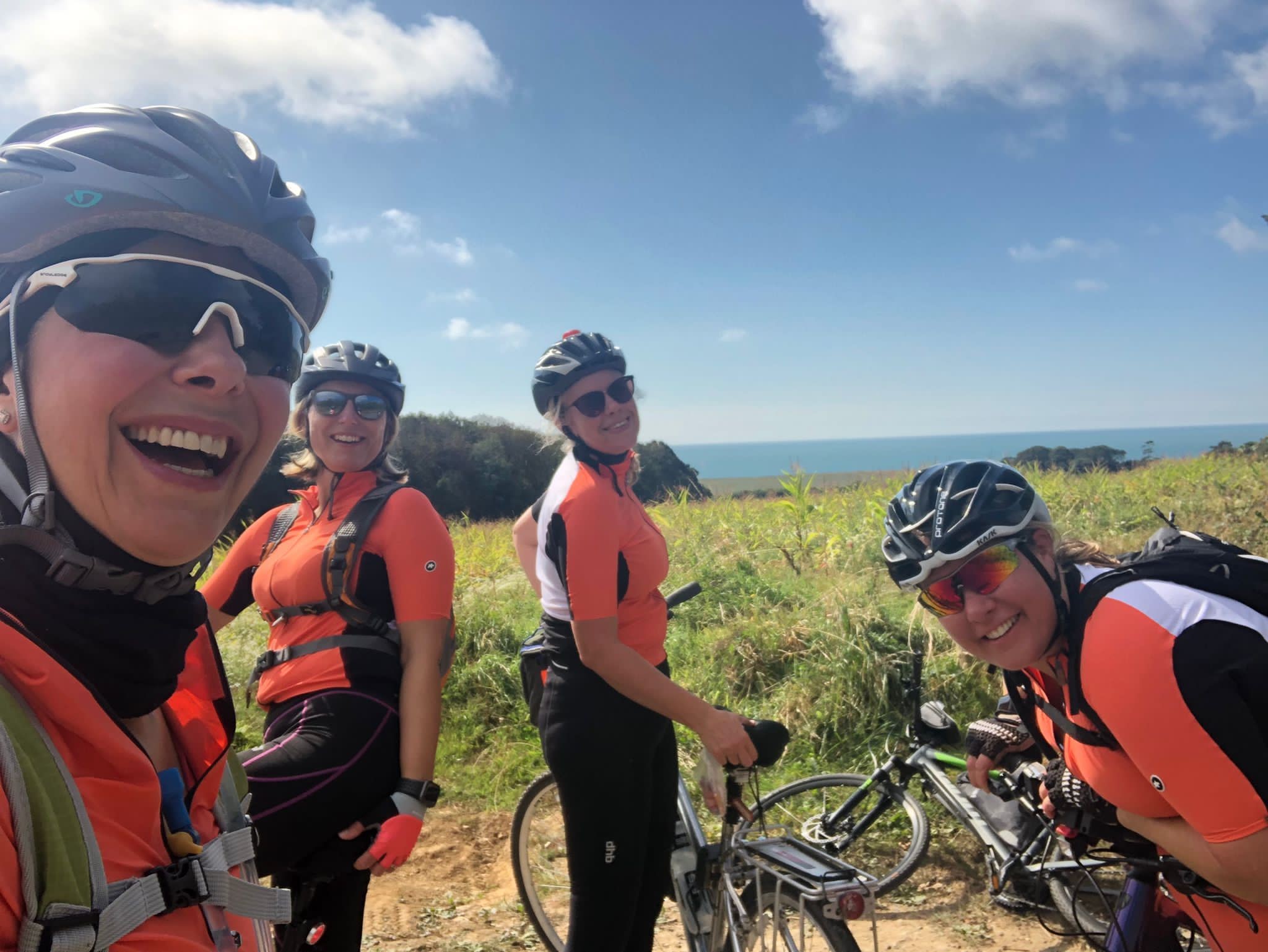 We took a trip down to the care unit to speak with Debbie and Lisa about breast cancer care. These two amazing nurses not only support 100s of women with their breast cancer journey but assisted Clare during diagnosis and recovery by providing an incredible source of mental and physical support.
What are the symptoms of breast cancer?
Signs and symptoms of breast cancer include:
A lump or swelling in the breast, upper chest, or armpit
A change to the skin, such as puckering or dimpling
A change in the colour of the breast – the breast may look red or inflamed
A nipple change, for example it has become pulled in (inverted)
Rash or crusting around the nipple
Unusual liquid (discharge) from either nipple
Changes in size or shape of the breast
"We recommend all women become 'breast aware' by completing a self-examination once a month, living a healthy lifestyle, attending breast screening appointments when called and generally knowing what feels normal to you. Women under 50 are not automatically invited for mammograms. However, they should not hesitate to contact their GPs if they notice any unusual symptoms or just a general feeling that something is not right about their health, no matter the age."
Today, a positive breast cancer diagnosis isn't all doom and gloom. There are many fantastic treatments available. The number of deaths from breast cancer is falling rapidly due to early diagnosis and improved treatments.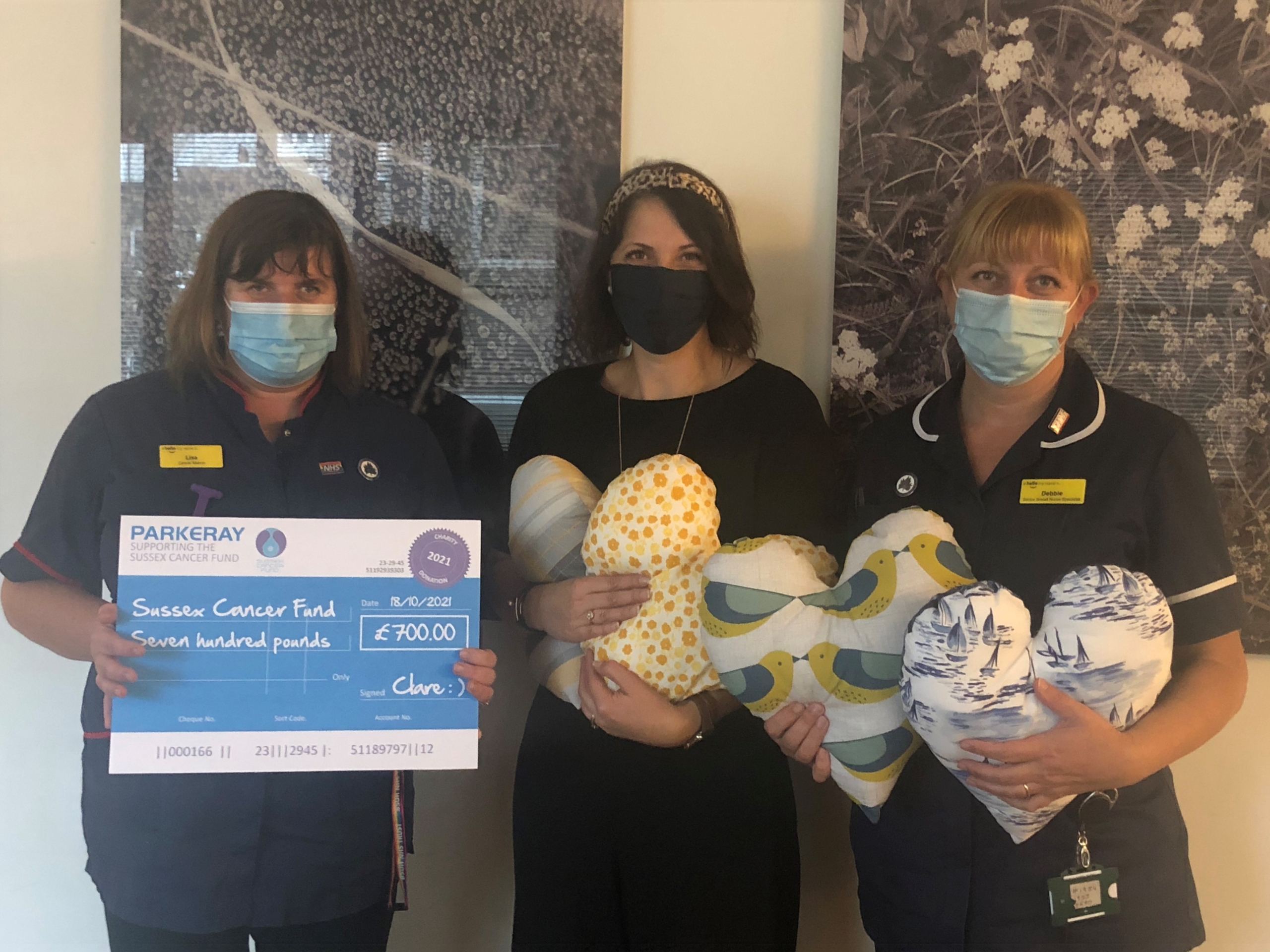 Can you tell us about your wonderful heart-shaped cushions?
"The underarm is the most sensitive part of the body post-surgery. The idea is that the cushion protects the underarm on a practical level in addition to providing much-needed comfort and assistance to those returning to everyday activities. These cushions are not available on the NHS, we rely solely on a local group of volunteers to produce them. The Brighton Care Unit sees up to 600 patients a year, which means every donation, however, small makes a huge impact."
We typically associate breast cancer with women, but does it affect men too?
"Yes, breast cancer affects up to 200 men a year in the UK. Men should also be aware of changes to the chest area too."
Prevention is better than cure, the www.breastcancercare.org.uk website is a great source for information if you have a question about breast health or looking for general advice. There is also a free number 0808 800 6000 to speak to an advisor.
If you would like to donate to Clare's charity page to support Macmillan and the Brighton Breast Cancer Care Unit, please visit: