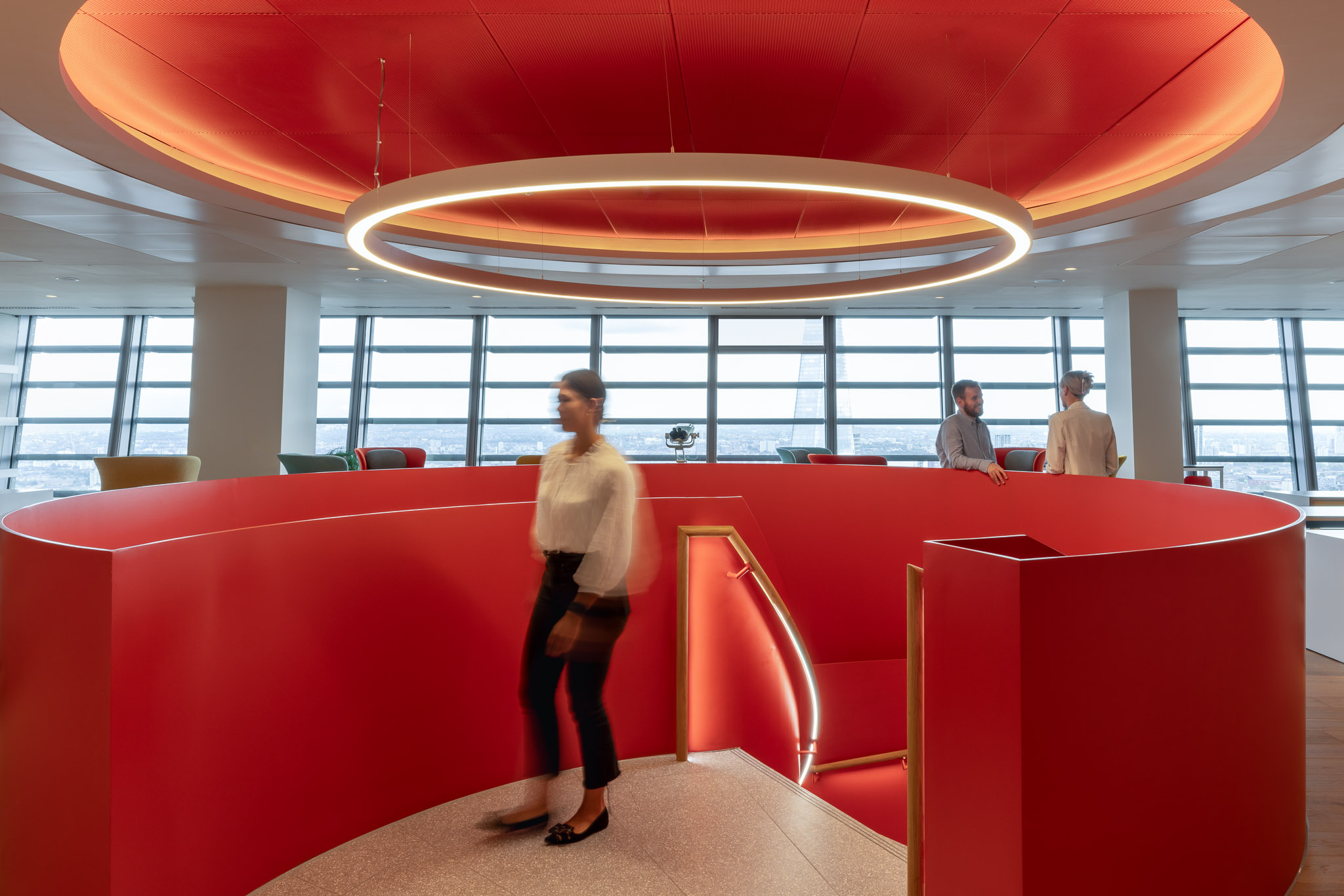 This transformative project for Lancashire saw our team refresh their office space on Level 29 and create a new front-of-house experience on part of Level 28 at 20 Fenchurch Street.
Having completed the fit-out of Lancashire's original office in 2014, along with subsequent works, our team were happy to return to construct a brand-new design across two floors totalling 41,500 sq. ft.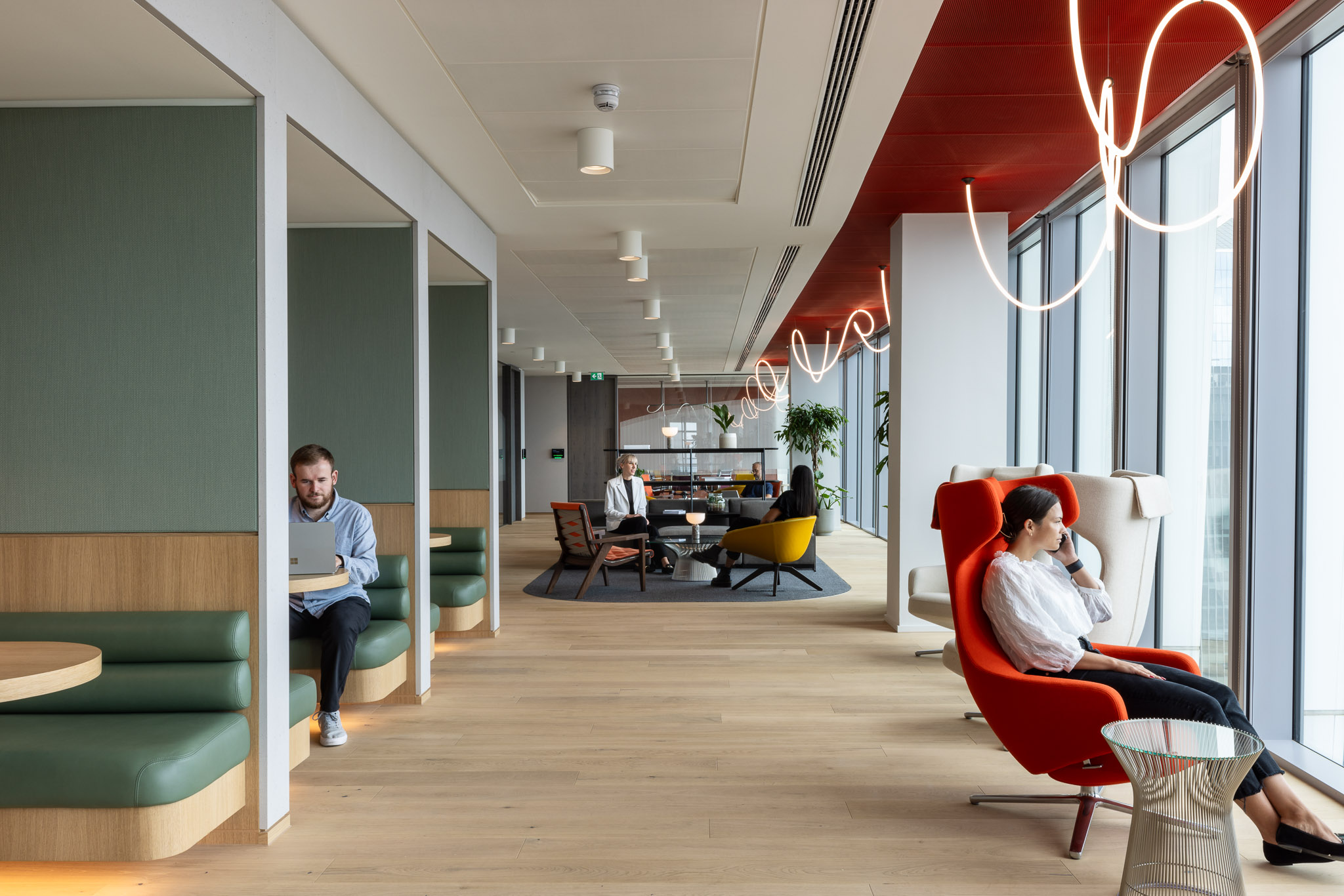 The brief
Lancashire wanted to refresh its existing space on Level 29 and provide a new front of house experience for clients and other guests while accommodating its growing workforce on Level 28.
The stunning design created by MCM represents the natural evolution of Lancashire's identity, incorporating its personality and adaptable spaces that support agile working.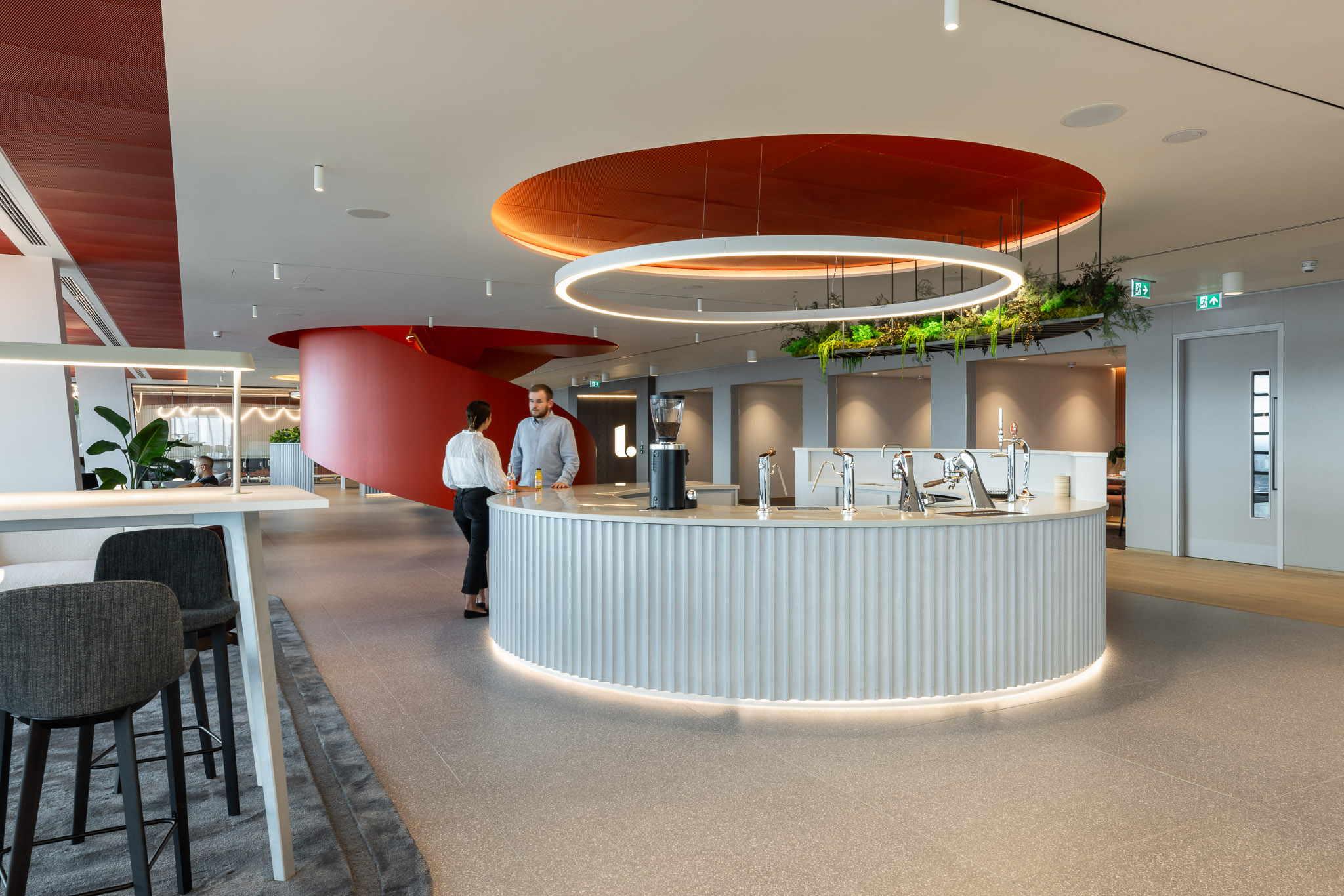 The fit out
The Level 28 front of house includes meeting rooms and event spaces with a broker coffee bar, all complete with bespoke joinery, fabric panelling and cement-panelled walls. Level 29 now boasts an extension of the existing open-plan workspace, with new quiet spaces, meeting rooms and a refresh of the employee lounge area. The fit-out also saw the construction of a feature staircase – a fantastic feat of engineering, which connects both floors.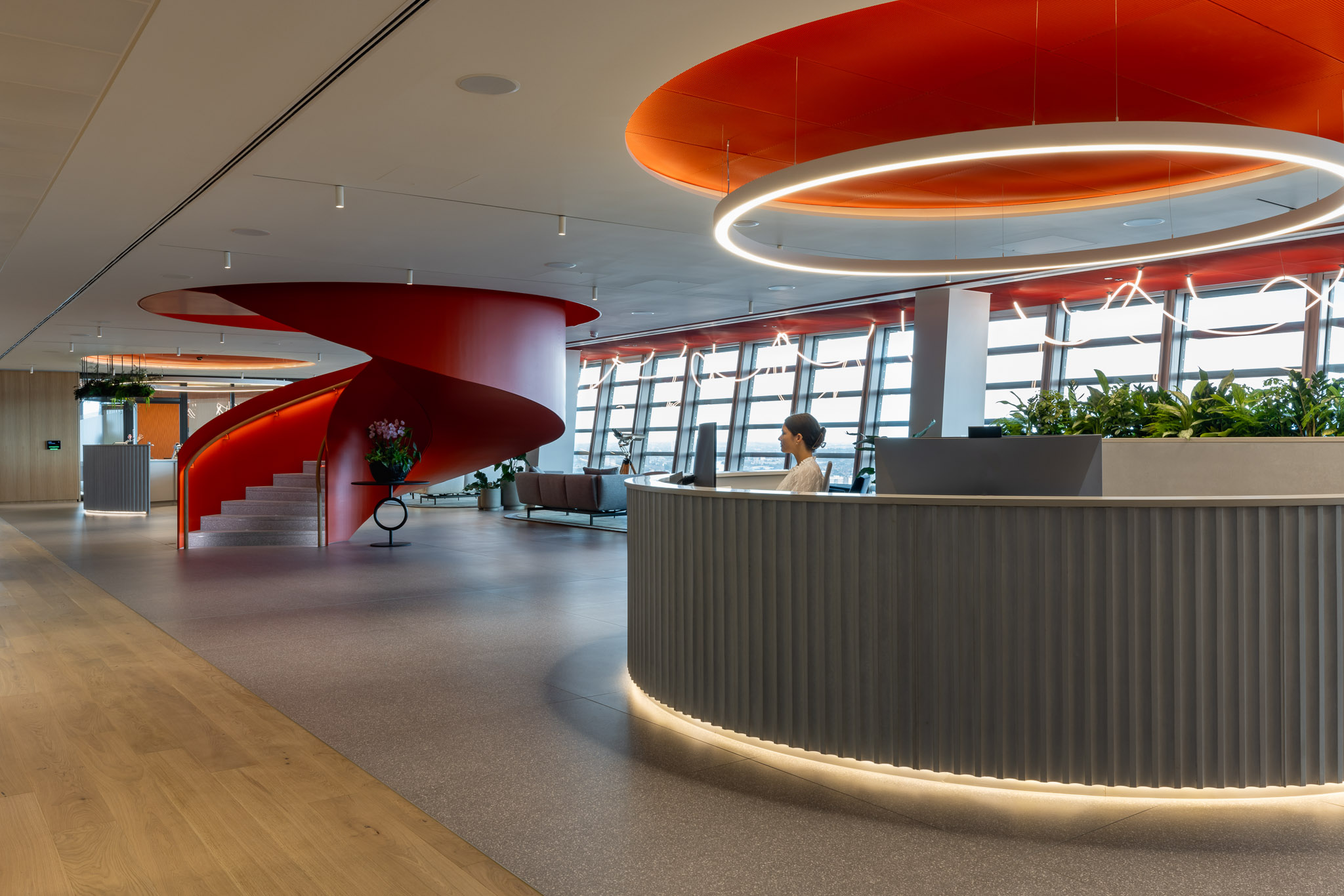 Fittings and finishes
Feature lighting makes a playful nod to Lancashire's personality with bespoke rope lighting to the reception and broker bar, complimented by biophilia. Perimeter lighting to windows throughout provides an illuminating orange glow viewable from the building exterior. Alphabet lighting is another striking feature that weaves across the floor plate. A vibrant colour palette with contemporary furnishings and timber and stone flooring makes this scheme stand out for all the right reasons.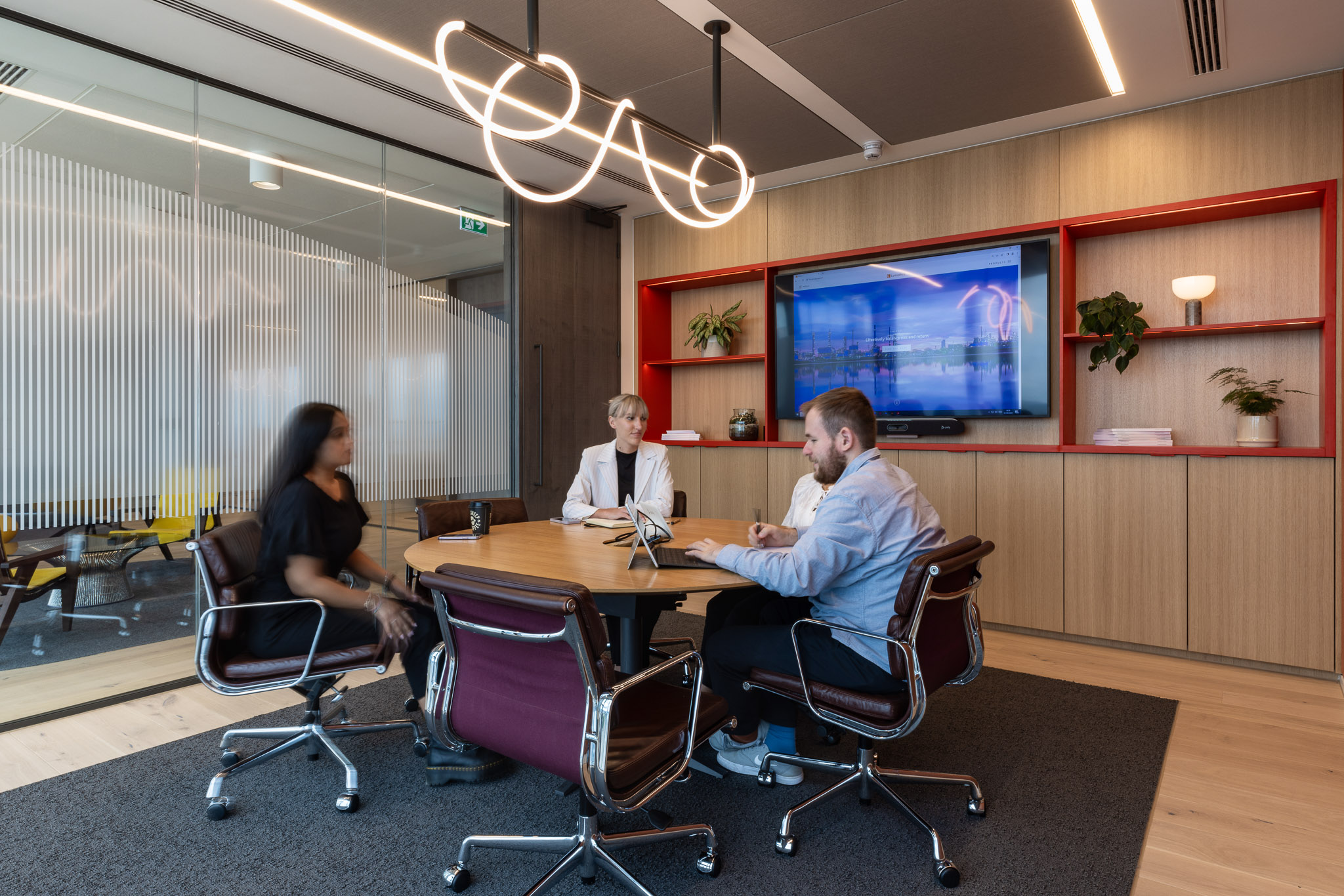 Working collaboratively
Teamwork was at the heart of this design and build scheme, requiring close integration with MCM and WSP alongside members of the professional team from the outset to ensure the design met Lancashire's requirements. The client remained in occupation throughout the construction process. Our team hosted regular meetings with them to ensure business continuity.
This stunning scheme was completed over the course of 36 weeks. Congrats to all involved.