Here's a quick rundown of our recently completed projects:
Accenture / Fjord
We partnered with Jenny Jones Studio in this 13-week fit-out of one floor to provide a collaborative studio space for Fjord London, on behalf of their parent company Accenture.
With the objective of providing a new home for this design agency, which had reached full capacity at its existing premises, our team delivered a high-end fit-out across the 11,000 sq ft floor plate to create a new working environment to accommodate their team.
New services, partitions, sliding folding walls and bespoke joinery, together with elements from the previous interior were all features of this fit-out. Light and airy; the new layout provides both open plan space and areas for private work and collaboration and accommodates up to 100 employees.
View the full case study here
Channel 4, London
Channel 4's new reception space now includes the capacity to accommodate events and its existing coffee bar/restaurant has increased in popularity as a bright and welcoming spot for both staff and visitors, with revenue up 500% alone on opening day following our teams' refurbishment.
The 7,000 sq ft fit-out was completed while the building remained fully occupied. New services were installed throughout as well as AV screens and speakers. A specialist micro screed floor finish was applied to both the restaurant and reception area. Bespoke joinery elements include bleacher seating, a reception desk, servery units and booth seating. A new concrete staircase and stage were also constructed to link the two areas.
View the full case study here
Confidential Client, London
Fun and quirky design details, fittings and finishes provide plenty of character within our 11,000sq ft fit-out for this not-for-profit organisation.
Our Cat B fit-out of the 3rd floor included mechanical and electrical works with the reconfiguration and supplementation of the existing air conditioning system and sprinkler system to suit the new floor layout. Elements of the former interior were also reused in the fit out including the suspended ceiling system, light fittings to the meeting area and an existing raised access floor.
Our client's new offices now include ample areas for the company to support higher education and research, with a mixture of open plan office space, meeting rooms, breakout areas and a communications room.
View the full case study here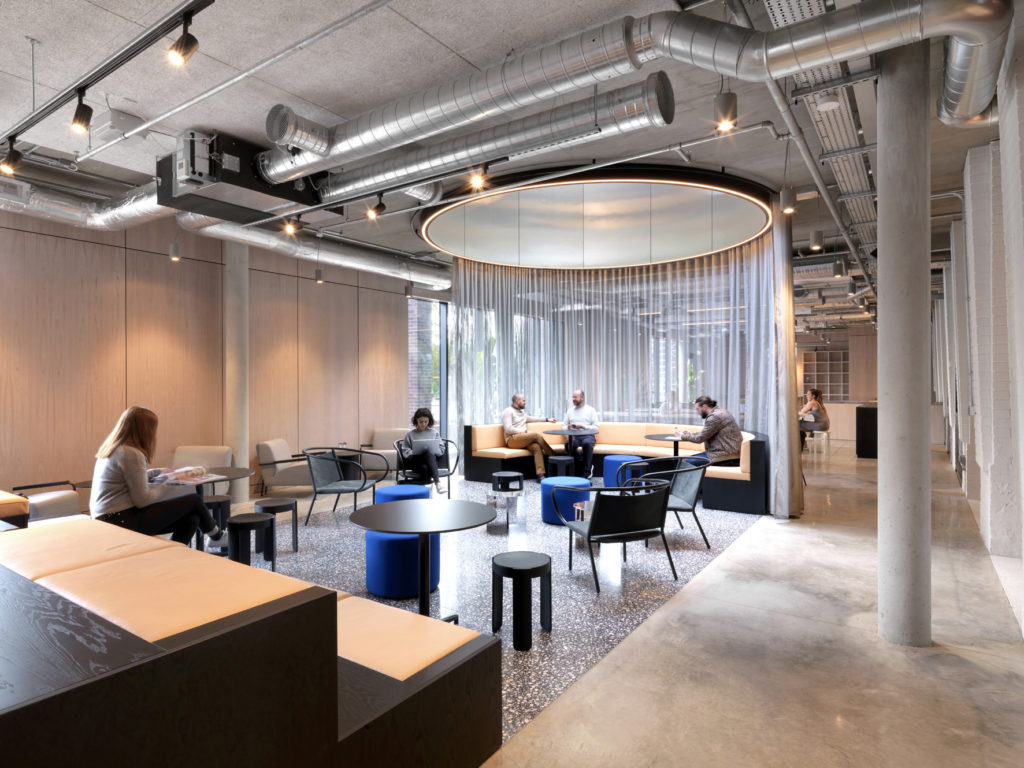 The Office Group, Tintagel House
Our 52-week refurbishment of Tintagel House on behalf of The Office Group completed earlier this year.
The 95,000 sq ft fit-out of 12 floors to provide flagship office space involved the major overhaul of the building's existing interior including significant mechanical and electrical upgrades; all carried out while a major two-storey extension to the front of the building was in progress by another contractor.
With the requirement to bring the space to market as quickly possible, our team worked closely with The Office Group to coordinate sectional completions; enabling tenants to take occupation of the space while works continued.
In addition to general office and coworking spaces, this contemporary fit-out scheme included the construction of a roof terrace, gymnasium and café, as well as a members' penthouse on the 11th floor with an adjoining bar area and meeting rooms.
View the full case study here